The History and Symbolism of Thai Buddha Images and Statues
The History and Symbolism of Thai Buddha Images and Statues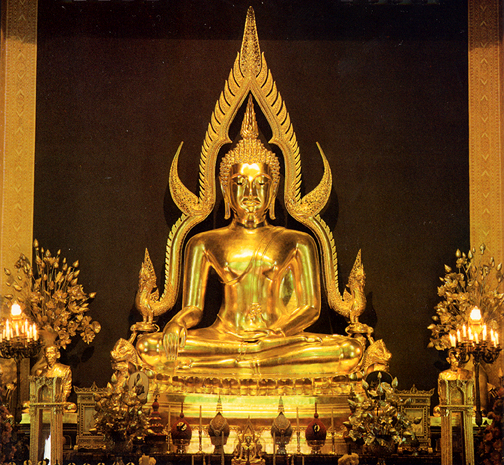 Whatever recent modernization Thailand appears to have gone through, Buddhism still underpins daily life and culture. Images of the Buddha still play an important and complex role. Every one of the 30,000 or so monasteries in the country has a principal Buddha image, often of considerable size, and many have in addition a number of smaller statues. Most Buddhist households also maintain their own altar with at least one Buddha statue, and richer owners may even have a special room set aside for the Buddha image, like a private chapel.
In size, Buddha images range from the gigantic (the seated Phra Achana Buddha statue at Wat Si Chum in Sukhothai is 14.7 in [48.2 ft] in height) to the tiny (personal images as small as a centimetre [0.4 in]). Every Buddha image is considered a substitute for the Buddha (as is the abbot of a monastery), and in some sense is believed to have life. Thais pay respect to Buddha images in a particular way, touching their forehead to the floor three times. In doing this, they are honouring first the Buddha, then the Buddhist doctrine, and finally the monkhood—the so-called 'Triple Gem'. In essence, each one of these three represents the others; they are interlinked. One reason for the proliferation of Buddha images is that the act of commissioning or donating one is considered to be an act of making merit.
According to Buddhism, every action has a result, so good deeds increase one's store of merit. In Northern Thailand, from about the 16th century, it became common to inscribe the bases of Buddha images and statues, often with the name of the donors. Human nature being what it is, this practise is a short step away from offering an Buddha image in return for a specific wish—and most of the smaller Buddha images are votive. Buddha images are made in many different materials and styles. The medium used varies according to what is available and the skills of the sculptor or craftsman. Pride of place is given to bronze casting of Buddhas, a skill for which Thailand has been famous since the 14th century. However, many other materials are used.
Indeed Faberge took commissions from the Thai court in the 19th century to produce Buddha images in their famed and opulent style. Thai Buddha images cover a considerable—even bewildering—variety of styles, drawing influences over the course of history from all the surrounding Buddhist nations. Every so often, a direct injection of ideals was received from Sri Lanka which, once the Buddhist religion had declined in its native India, became the source of the holy Buddhist scriptures.
Crucial to an appreciation of Buddhist art is the set of rules, the iconography, for portraying the Buddha. In particular, there are 32 major and 80 minor distinguishing features which set the Buddha apart from ordinary men, and which emphasize his other-worldliness. Some are quite strange, if not anatomically impossible, such as a nose like a parrot's beak, a chin like a mango stone, arms like the trunk of an elephant projecting heels, and webbed hands and feet. Nevertheless, if the Buddha image is to serve its purpose, it must go some way in conforming to these ideals.
There are many seemingly arcane rules for a Buddha image that appears 'calm and beautiful'. The peak of Thai Buddhist art was during the Sukhothai period of the 14th and 15th centuries. It coincided with stronger attempts to convey these ideals—and resulted in representations of the Buddha that are ethereal, other-worldly and asexual.
Exactly how this came about is unknown, but at some point in the 14th century, a radically different style of Buddhist art evolved. The Buddha's face is elongated into an ovoid and its features are conveyed in a set of elegant, sinuous curves: high arched eyebrow ridges lead down to the ridge of the nose and are echoed in the triple curve of the eyelids and mouth. For these Buddha images there is purity and a tension that led scholar and collector Alexander Griswold to describe the Sukhothai style as "full of nervous energy", a remarkable achievement given that the Buddha figure also exudes calm and peace.
Within this unique Sukhothai style, one invention stands clear, that of the walking Buddha. It appears nowhere else, and relates to the placing of the Buddha's imprint—a symbol, important throughout Southeast Asia, of the spread of the Buddhist religion. In particular, it refers to the Buddha pacing to and fro in the third week after his enlightenment at Bodhgaya. The magic created by the Sukhothai Buddha sculptors has produced a free-standing Buddha image with a flowing, almost supernatural, sinuosity. Among the many examples, the famous bronze Buddha figure at Wat Benjamabopit, Bangkok is generally considered to be the finest Buddha statue in Thailand if not the world.
An idea that is developed and put into action is more important than an idea that exists only as an idea. Buddha
The best place to buy wholesale and retail Buddha statues, sculptures and wall panel decor for both the home and garden.
Bespoke design available, from small buddha statues to large buddha wall art in colours from natural wood to gold, all carved by our Buddhist artists and 100% fairtrade.