Top 10 Lists of Top 10 Lists About Buddhism
"We are what we think. All that we are arises with our thoughts. With our thoughts, we make the world."The Buddha
We've assembled 10 of the Top 10 lists about all things related to Buddhism - why because everybody loves a top 10 list - hope you enjoy them.
1. Top 10 of the World's Most Amazing Buddha Statues
2. The Ten Cardinal Precepts for Buddhist Monks
3. Top 10 quotes from the Buddha
4. Top 10 Zen Buddhist Quotes
5. The Top 10 Bangkok Buddhist Temples
6. Top 10 misperceptions about Buddhism
7. Top 10 Famous Buddhists
8. Top 10 Buddhist Countries by Population
9. Top 10 Reasons for Being a Buddhist
10. Top 10 Buddhist Caves in the World

1. Top 10 of the World's Most Amazing Buddha Statues
Buddhist culture and its adherents have contributed in carving some of world's most magnificent Buddha statues. Some of these statues are of gigantic size and truly represent wonders of the world.
1. Ushiku Daibutsu, Japan. Located in Ushiku, Japan this Buddha statue was finished in 1995. This is one of the tallest statues in the world measuring over 120 metres.
2. Kamakura Great Buddha, Japan.
Sited at the Kamakura temple, Japan - this temple is famous for Buddhist statues from the 13th century. The giant Buddha statue is over 13 metres and is carved in bronze.
3. Leshan Great Buddha, China. This Buddha statue shows the Buddha in the sitting posture and is carved out of a cliff. This is the largest carved stone Buddha in the world standing at over 71 metres.
4. The Reclining Buddha, Bangkok. This reclining Buddha statue is plated with gold and is more than 46 meters long. The eyes of the statue and the Buddha's feet are decorated with engraved mother of pearl.
5. Emerald Buddha, Bangkok. Housed in Wat Phra Kawe (the temple of Emerald Buddha) and is the most popular Buddha statue in the world. This Buddha statue was constructed in India and later taken to Sri Lanka and finally to Bangkok via Laos. Legend has it should this precious Buddha statue be lost to Thailand then the current Chakri dynasty will fall.
6. Gal Vihare, Sri Lanka. Sited at Polonnaruwa - the main attraction of the temple are the 4 large Buddha statues carved into the face of a huge granite boulder. There is a reclining statue of the Buddha measuring over 14 metres in length and a standing Buddha statue which measures 7 meters high.
7. Monywa Buddhas, Burma . This Buddha statue was made in 1991 and is currently the largest finished reclining Buddha statue in the world measuring over 90 metres in length
8. Hussain Sagar Buddha Statue, India. This Buddha statue is situated in the centre of a lake in Hyderabad and is one of India's most famous Buddhist statues. This colossal statue measures 17 metres tall and weighs 320 tons.
9. Buddha head, Thailand. Sited in Ayutthaya, Central Thailand and is regarded as one of the world's most unusual Buddhist statues. It lies amongst the ruins of Wat Mahathat (The Temple of the Great Relic) and is the remains of a sandstone statue of the Buddha whose body has long lost but whose head rest in the intertwining and climbing roots and vines of a tree. Set in the extensive and beautiful gardens of the historical complex it provides an iconic and arresting image.
10. Tian Tan Buddha, Hong Kong. This is also known as Big Buddha, Tian Tan Buddha and is located in Lantau Island, Hong Kong. This huge Buddha statue is over 34 metres tall and sits upon a Lotus flower throne and set in magnificent landscaped gardens.
2. The Ten Cardinal Precepts for Buddhist Monks
1. No killing
2. No stealing
3. No sexual intercourse or impropriety
4. No lying or cheating
5. No taking of intoxicants
6. No eating at the wrong time - after the midday meal
7. No dancing or music
8. No wearing of jewellery or cosmetics
9. No sleeping on raised beds
10. No acceptance of money
3. Top 10 quotes from the Buddha
1. You yourself, as much as anybody in the entire universe deserve your love and affection.
2. Let yourself be open and life will be easier. A spoon of salt in a glass of water makes the water undrinkable. A spoon of salt in a lake is almost unnoticed.
3. Peace comes from within. Do not seek it without.
4. The mind is everything. What you think you become.
5. Holding on to anger is like grasping a hot coal with the intent of throwing it at someone else; you are the one who gets burned.
6. Your work is to discover your work and then with all your heart to give yourself to it.
7. The way is not in the sky. The way is in the heart.
8. Let us rise up and be thankful, for if we didn't learn a lot today, at least we learned a little, and if we didn't learn a little, at least we didn't get sick, and if we got sick, at least we didn't die; so, let us all be thankful.
9. Have compassion for all beings, rich and poor alike; each has their suffering. Some suffer too much, others too little.
10. Believe nothing, no matter where you read it, or who said it, no matter if I have said it, unless it agrees with your own reason and your own common sense.
1. A monk once asked a Zen Master where he would go after he died. The master replied 'How should I know'How do you not know? You're a Zen master!' exclaimed the monk
'Yes, but not a dead one,' the master answered.
2. Do not look for the truth, merely cease to cherish your opinions.
3. If you understand, things are just as they are; if you do not understand, things are just as they are.
4. The tighter you squeeze the less you have.
5. When you have reached the top, don't stop.
6. If a river is too pure, it yields no fish.
7. Be master of mind rather than mastered by mind.
8. From a withered tree, a flower can bloom.
9. The infinite is in the finite of every instant.
10. When you harbour delusions and are full of doubt, even a thousand books of religious learning are not enough. When you have reached enlightenment , even one word is too much.
5. The Top 10 Bangkok Buddhist Temples
Bangkok's gilded temples or wats provide some of the world' most stunning and colourful settings, and many of Thailand's most revered and iconic Buddha statues and images. Often surrounded by beautiful gardens and grounds they provide a welcome respite from the non-stop busy-ness of modern day Bangkok.
1. Wat Arun
2. Wat Phra Kaew
3. Wat Pho
4. Wat Saket
5. Wat Traimit
6. Wat Suthat
7. Wat Mahathat
8. Wat Benchamabophit
9. Wat Rakhang
10. Wat Ratchabophit
6. Top 10 misperceptions about Buddhism
1. Buddha is a God
2. All Buddhists are into meditation
3. All Buddhists have shaved heads
4. All Buddhists are strict vegetarians or vegans
5. The Buddha is a single entity
6. All Buddhists live in remote monasteries
7. All roads lead to the same place
8. All Buddhists eschew war
9. Buddhism is a philosophy not a religion
10. This list is an illusion
1. Dalai Lama
"Be kind whenever possible. It is always possible."
2. Richard Gere - actor, movie star
"What we all have in common is an appreciation of kindness and compassion; all the religions have this. We all lean towards love. "
3. Steven Seagal - actor
"Try to find the path of least resistance and use it without harming others. Live with integrity and morality, not only with people but with all beings."
4. Leonard Cohen – poet, singer and novelist
"Act the way you'd like to be and soon you'll be the way you act."
5. Harrison Ford - actor
"The actor's popularity is evanescent; applauded today, forgotten tomorrow. "
6. Goldie Hawn – actress
"I have witnessed the softening of the hardest of hearts by a simple smile."
7. George Lucas - film producer, director (Star Wars)
"Luke,there is no try,there is either do or not do."
8. Oliver Stone - film director (Platoon, Wall Street)
"I've been to war, and it's not easy to kill. It's bloody and messy and totally horrifying, and the consequences are serious."
9. Tina Turner - singer

"I'm not wise, but the beginning of wisdom is there; it's like relaxing into - and an acceptance of – things."
10. Uma Thurman – actress (Kill Bill)
"Buddhism has had a major effect on who I am and how I think about the world. What I have learned is that I like all religions, but only parts of them."
8. Top 10 Buddhist Countries by Population
1 China 277m to 1 bn 21% -80%
2 Japan 122,369,253 96%
3 Vietnam 74,268,750 85%
4 Thailand 61,814,742 90%
6 South Korea 23,531,874 48%-54%
7 Taiwan 22,131,451 95.5%
8 Sri Lanka 16,050,484 76.7%
9 North Korea 15,106,650 63.5%
10 Cambodia 13,938,460 96.5%
9. Top 10 Reasons for Being a Buddhist
1. Everybody loves the Dalai Lama (except the Chinese!)
2. It's about love and compassion
3. it's about everybody
4. There's absolutely no conflict between science and Buddhism.
5. Buddha statues rock.
6. You don't have to believe in God but you can if you want.
7. The 5 Precepts (look it up!).
8. Meditation is better than drugs
9. There are no sin per se only consequences for your actions
10. Buddhists don't preach – because ultimately it's up to you.

10. Top 10 Buddhist Caves in the World
The practice of excavating networks of rooms into the sides of cliffs and mountains to create cave temples started in India and spread with Buddhism from Central Asia through to China. Within China, the Gansu region has the most Buddhist caves.
Buddhist cave locations were often picked for their scenic beauty, sometimes by itinerant monks who had had Buddhist visions at a particular spot or were attracted by the spiritual aura of the locations. Cave temples became the focus of worship and meditation for a local community of monks and laiety and well as travelling merchants and traders. Many cave temples were situated along trade routes.
Buddhist images, carvings and statues were arranged in the caves. Some sites had images and statues carved directly from the rock. At other sites where the rock was too friable for carving statues and images in the caves were made from a mixture of clay and straw with a central core of wood or metal. Fine clay was finished off and the finished statue or image was then painted.
1. Guyang Cave, China
2. Ellora Caves, India
3. The Sudama Cave,Gaya India
4. The Ajanta Caves, India
5 Yungang Grottoes, China
6.Fengxian Temple, China
7. Binyang Cave, China
8. Lotus Cave (Lianhua Cave), China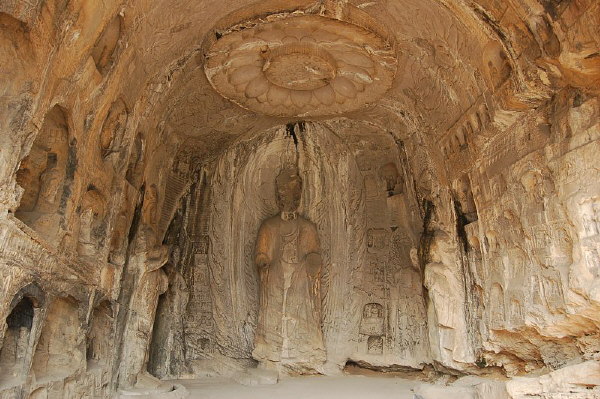 9. Prescription Cave, China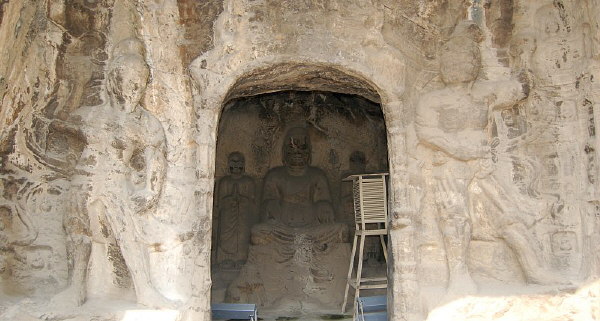 10. Aurangabad Buddhist Caves, India
The best place to buy wholesale and retail Buddha statues,sculptures and wall panel decor for both the home and garden
Bespoke design available, from small buddha statues to large buddha wall art in colours from natural wood to gold ,all carved by our Buddhist artists and 100% fairtrade.